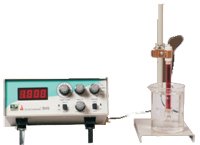 Features
Easy to operate and hassle free access to controls.

Complete kit with Rugged Carrying Case.

Conductivity Standards.

Body and stand made up of aluminium with powder coating to prevent rusting.

Probe with cable.

Economically Priced.

Accessories and Spare parts in Stock

.
Conductivity meter
supplied with
Conductivity Cell, Stand with Clamp, Conductivity Solution, Instruction Manual, Gurantee Card, Mains cord
Conductivity is the ability of a material to conduct electric current. The principle by which instruments measure conductivity is simple-two plates are placed in the simple,a potential is applied across the plates (normally a sine wave voltage), and the current is measured. Conductivity (G), the inverse of resistivity (R) is determined from the voltage and current values according to Ohm's law
G=I/R=I (amps) / E (volts)
Since the charge on ions in solution facilities the conductance of electrical current, the conductivity of a solution is proportional to its ion concentration In some situations, however,conductivity may not correlate direct to concentration.
Application
Conductivity measurements are used routinely in many industrial and environmental applications as a fast, inexpensive and reliable way of measuring the ionic content in a solution to monitor quality in public water supplies, in hospitals, in boiler water and industries which depend on water quality such as brewing.
About AI's conductivity meter
Arvind industries SV-5 ConductivityMeter, with its compact is conventional model and targeted for routine applications in laboratory.
Technical Specification
Display
:
 

LED Digital Display 7 segment, 3 digit 12.7 mm

Measuring
Range
:
 

1.999 u S to 199.9 milli S.   

Accuracy
:
 

+1% Full Scale

Sensor input
:
 

Conductivity probe

Temperature Compensation
:
 

Manual

Temperature Range     
:
 

10 to 100 C

Power 
:
 

50 Hz 230 V AC

Input
:
 

Bannana pin

Cell Constant   
:
 

Adjustable from 0.08 to 1.5

Dimension
:
 

201x70x190 mm

Weight
:
 

1260 gm